Purpose
Morrison Design (MDP) is a multi-disciplinary commercial practice with in-house services of architecture, interior design, project management, landscape and urban design located at St Leonards in Sydney.
Led by the directors Glen Ollerton and Markam Ralph, the practice has extensive, proven experience in delivering projects for over 50 years.
As a well-established yet habitually innovative firm, we strive to continuously challenge conventional thinking and are passionate about working with clients who are leaders in innovating and improving how we best design our projects, so they always add exceptional extra value.
We further specialise in pro-actively identifying and positively disrupting any obsolete assumptions or approaches that may be impairing the sectors we operate in.
We also add our world-class expertise in sustainable design (as recently delivered for global brands in Beijing and Sydney); along with the funding network to deliver it – all without increasing direct capital costs to the client (while also reducing building operational costs); in short, we help our clients be exemplary.
YOUR VISION + MDP INSIGHT, EXPERIENCE, DISCOVERY, DESIGN & DISTINCTION
The role of MDP is to take your brief, apply our extensive, award-wining expertise in design, then discover where we can best innovate to add the most value.
We work with the client's stakeholders to deliver an optimal space design outcome for the end-users that will enhance their experience, wellbeing and lifestyle - while also improving the operational performance and reputation, of our clients.
We pride ourselves on adding exceptional value to our clients' brands and projects by listening intently, discerning, confirming and then tightly focusing on the client's core objectives, while ideating potential enhancements.
By getting to know our clients well, we're able to bespoke-tailor each project to anticipate, design for, meet and exceed, the client's and users' every need, want and hope.
METHODOLOGY AND DELIVERY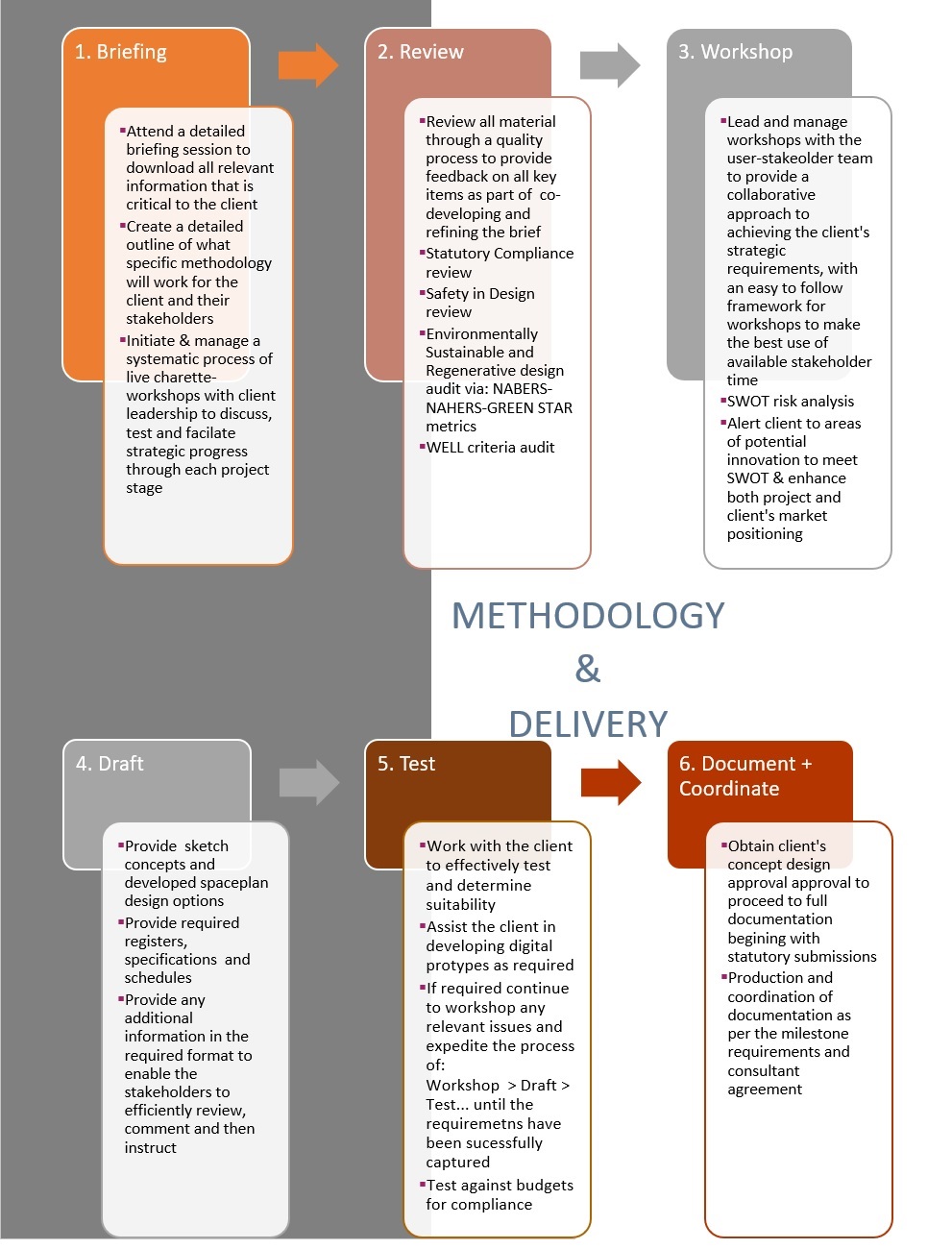 CAPABILITY STATEMENT
MDP has been ideating and delivering sector-leading, award-winning designs throughout the 50-year history of the firm. Directors Glen Ollerton and Markam Ralph are dedicated to applying progressive ideas in health, hospitality and residential design, and work with clients in both the for-profit and not-for-profit sectors. Through such deep yet diverse experience, we're able to provide considered yet lateral approaches to all our projects; to achieve best-case operational outcomes and fulfilled financial and market strategic objectives.
By expertly transforming our clients' intended vision into ideal built form that's fit for purpose; we facilitate both consistent, recurrent client revenue streams and also their enhanced brand reputation.
MDP are focused on forming strategic long-term relationships with high-value clients.
Our mission is to adroitly understand what our clients' objectives and priorities are, and to apply continuous improvement-QA processes such as via our BSI-QMS ISO 9001 certification.
Ultimately, we understand that each client & end-user is unique; and that we're very privileged to be orchestrating the design of quality environments for their comfort, enjoyment and delight.
MDP are focused on forming strategic long term relationships with valued clients. As a firm MDP are passionate about projects that enable us to serve clients by applying our extensive, innovative design expertise to deliver projects that enhance the lives and experiences of future residents and visitors.